The Delaware Plan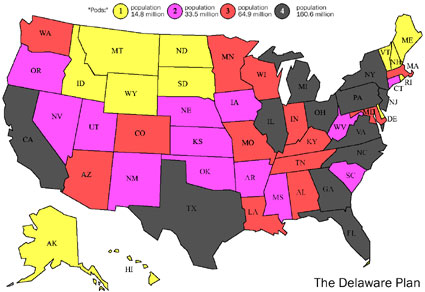 Summary
The Delaware Plan relies on "backloading" the primary schedule, that is, allowing less populated states to go first and the most populated to go last, to avoid the negative outcomes discussed above. The Delaware Plan involves four "pods" or sets of primaries during which a section of states may hold their primary elections.
How it Works
Beginning the first Tuesday in March, the pods vote 30 days apart as follows:
POD 1: American Samoa, Virgin Islands, Guam, Wyoming, District of Columbia, Vermont, Alaska, North Dakota, South Dakota, Delaware, Montana, Rhode Island, New Hampshire, Hawaii, Idaho, Maine, Puerto Rico. Population total: 14.8 million.
POD 2: Nebraska, New Mexico, Nevada, West Virginia, Utah, Arkansas, Kansas, Mississippi, Iowa, Connecticut, Oregon, Oklahoma, South Carolina. Population total: 33.5 million.
POD 3: Kentucky, Colorado, Alabama, Louisiana, Arizona, Minnesota, Maryland, Wisconsin, Tennessee, Missouri, Washington, Indiana, Massachusetts. Population total: 64.9 million.
POD 4: Virginia, North Carolina, Georgia, New Jersey, Michigan, Ohio, Pennsylvania, Illinois, Florida, New York, Texas, California. Population total: 160.6 million.
States within a particular pod may vote at any time during the appointed month. They may move their primaries later in the schedule beyond the appointed month, but not earlier.